Dr. Horn has a secret shack hidden away in the map Surface Tension.
Getting thereEdit
Just "noclip" will not work to get here. You need to "env_remove reload" first.
There is a button on a console on the cliffside that must be pushed to reveal the cave entrance to the shack. It will turn yellow and indicate an 'error' when pressed. After pressing it back-track and drop down a few ledges to enter the cave.
Alternatively, you can type the following commands into the console to get there:
map bm_c2a5c
sv_cheats 1;noclip;setpos -12345 -13995 6738;noclip

Dr Horn's picture.
A screen that shows a Hammer window open with a wireframe display of the Anti-Mass Spectrometer.
Tacos.
An aeronautical chart with an airport diagram tacked onto it.[1]
Hidden textureEdit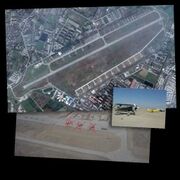 When viewing the interior of the shack in Hammer, an overlay texture, which for some reason doesn't render in-game, can be seen on the wall.[2] The texture shows a collage of airport/airplane photos. The larger one seems to be an aerial photo of a military heliport in Chengdu, China (Google maps link).[1]
Dr Horn's shack seems to be the only location this particular texture is used in the game.
The texture is stored in the file materials\decals\papers\photos2.vtf.
Shack exterior and surrounding areaEdit
There are two satellite dishes on the roof/wall.
On the wall next to the door, there is a no trespassing sign and a camera prohibited sign.
Outside the shack there is a picnic bench with three plates on the table and some leftover food items.
ReferencesEdit